'To Provide Early Years Childcare through a friendly, secure and stimulating environment'
First Steps Women's Centre (FSWC) provides childcare for mothers or carers that are attending one of the many brilliant courses we offer at our Centre.
Our childcare facility is a very large room (10m x 7.5 m) that has been completely refurbished and renovated in 2018. It has an on-site sandpit, library, and lots of toys with stimulating activities, all designed to provide children with a healthy and stimulating environment.
All our childcare staff are trained and qualified to look after your child. Our role is to take away the worry and stress whilst you can concentrate and enjoy learning and making friends.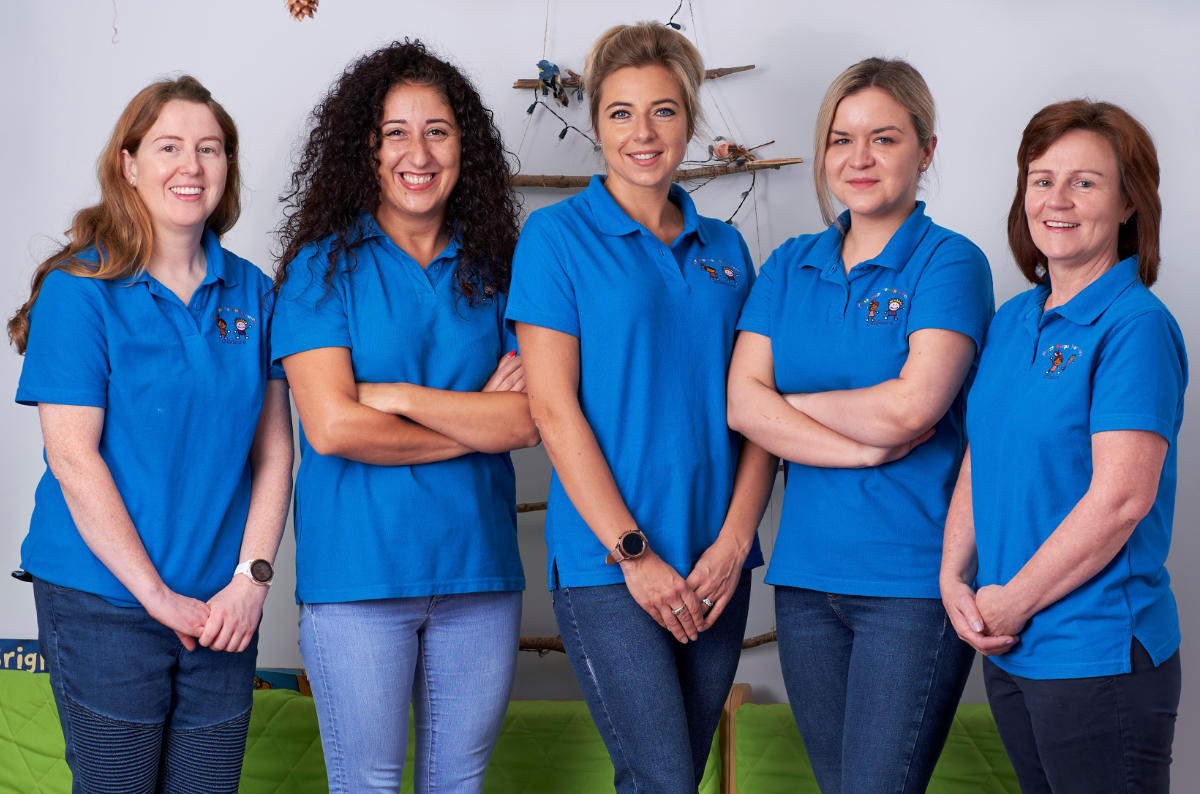 Childcare Activities
There are many activities that the children can do including painting, baking, singing, playing with sand or water, reading or even taking a quiet nap.
We aim to create a positive self-image in all children by giving value to each individual child, ensuring all children learn to value and respect one another.
Age Group
First Steps Women's Centre's crèche can cater for children aged from 4 months old to their 5th birthday.
Professionalism
First Steps Women's Centre provides a highly secure, safe and professional childcare service. All children attending our childcare have to go through a formal registration process. This normally takes 20-25 minutes.
At FSWC we take looking after your child very seriously. Nothing is left to chance.
The staff ensure that your child will be safe and secure. At the end of each day you will be provided with a Daily Report sheet which will provide information on your child's stay.
Feedback from Mums/Carers
At First Steps Women's Centre we want to continually improve what we do and how we do it. We will ask mothers/carers to complete an evaluation form on how we are doing.
This is confidential and designed to assist our staff in improving our service. Previous feedback from mums/carers has been excellent.
Professionally Qualified Staff
Our Childcare staff are qualified from a minimum NVQ 2 Children's Care (or equivalent).
Staff are trained in First Aid and Child Protection and Food Hygiene.
Indoor and outdoor Health and Safety Checks are completed daily in compliance to a detailed Risk Assessment document
For more information contact:
Helena Oudiden, Childcare Leader Tel: 028 8772 7648 Email: This email address is being protected from spambots. You need JavaScript enabled to view it. or
Michael McGoldrick, Chief Executive Tel: 028 8772 7648 Email: This email address is being protected from spambots. You need JavaScript enabled to view it.